MVG & Friends Cancer Charity Collabiration
02 Jun 2011, 07:08 AM
taylor018
Poster


Posts: 31
Joined: Apr 2011
Reputation: 0
MVG & Friends Cancer Charity Collabiration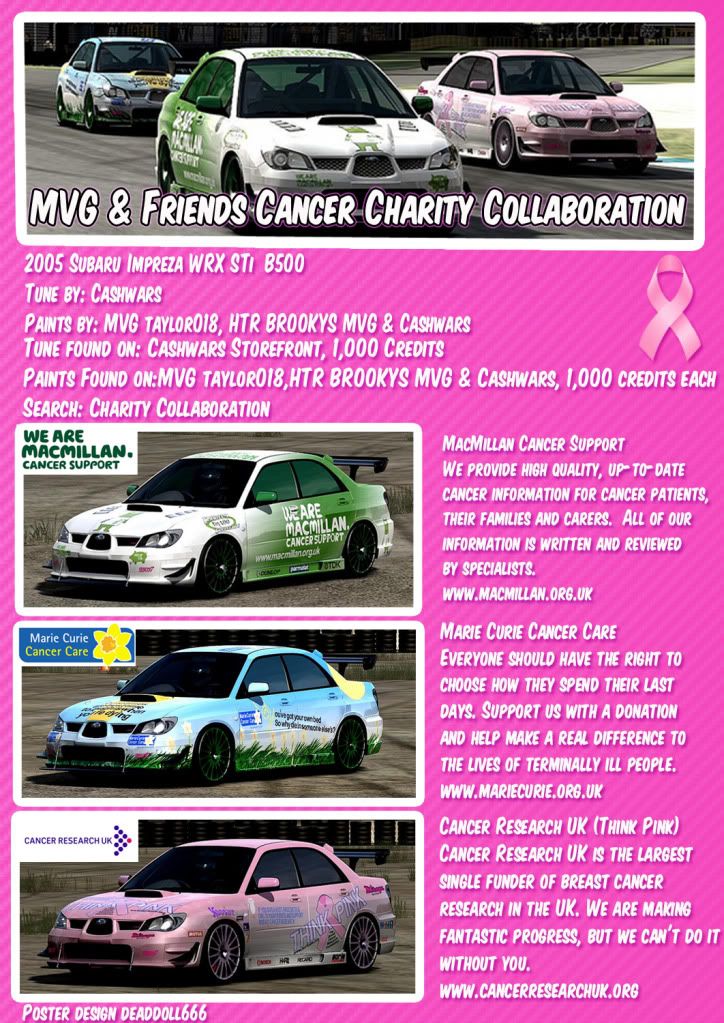 http://www.youtube.com/watch?v=7mxdR6Rjzp4
Top 100 Challenge
First off, a few thanks to the guys involved in painting, testing, designing of sigs and posters, photos, & making of the video: HTR BROOKSY MVG, MVG taylor018, TfR Wesman45, Deaddoll666, craig198424, bikergriff, StuBee, OcR Shanklin15, woontz666....to those that have responded both at Forza related websites and the Facebook pages of the three charities whose designs are available for the car........from myself THANKYOU.
An idea comes to be....
After seeing a paint being done by HTR BROOKSY MVG an idea came about....one car, three paints and hopefully enough participation from you guys to maybe get the car and paints in the top 100. I know myself through losing family and friends to Cancer, there's probably a lot of you guys/girls who can say the same. Forza plays a large part in how I relax after a days work, maybe the same for yourself, chilling out after work/school etc etc. So I figured this challenge would be a nice way just to say, even when I'm relaxing and enjoying myself, those that I've lost are never far from my thoughts.
As it's our first attempt at something like this and no-way of taking any contributions, at the bottom will be three links to the Charity websites we are covering, even if you cannot make a donation, maybe just take the time to read what these charities do. If you do make a donation, please feel free to send myself Cashwars, HTR BROOKSY MVG or MVG taylor018 a private message over any sites we frequent or xbl with what you donated, it's not necassary but would be nice if we could post a figure at a later date of what had been donated by us/you the Forza Community.
The Challenge....
Basically a HLC, we need you to get the car, get the paint, run the laps and try to get it into the top 100 at our chosen track, feel free to run it elsewhere, I believe the cars managed at least 30+ top 100's by three drivers.
The track:
Iberian Reverse
The Prizes:
1st 5 mill
2nd 4.5 mill
3rd 4 mill
4th 3.5 mill
5th 3 mill
6th 2.5 mill
7th 2 mill
8th 1.5 mill
9th 1 mill
10th 500K
This is for each paint job, so enough prizes for 30 people who take the time to run some laps, don't worry if you don't go top 100, finishing in the top 10 for the paint you're using gets you some winnings.
The Photo comp...
Any Track
Cashwars tune with any of the three Charity paints
3 photos per person, if you post more state which are the enteries.
Prizes - These are for each paint so the total prize pot for the Photo Comp is 10.5 mill.
1st - 2 mill
2nd - 1 mill
3rd - 500k
Note - You can enter for each paint if you wish.
[/center][/quote]
Griff is working on the video to get rid of the Outlaw Motorsport and website
---


23 Jun 2011, 19:39 PM
taylor018
Poster


Posts: 31
Joined: Apr 2011
Reputation: 0
RE: MVG & Friends Cancer Charity Collabiration
I noticed that this was put into this months 360 Gamer Mag, i would like to thank the guys involved for putting this in there

Thanks again guys
---


28 Jun 2011, 15:42 PM
taylor018
Poster


Posts: 31
Joined: Apr 2011
Reputation: 0
RE: MVG & Friends Cancer Charity Collabiration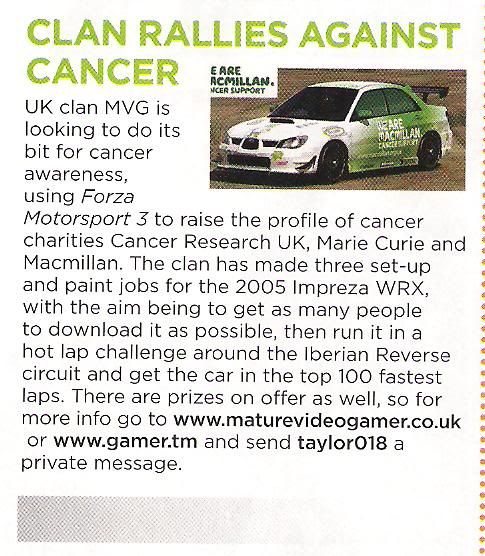 ---


02 Jul 2011, 19:25 PM
(This post was last modified: 02 Jul 2011 19:26 PM by Podders.)
Podders
Still feeling the arcade love


Posts: 1,327
Joined: Apr 2007
Reputation: 12
RE: MVG & Friends Cancer Charity Collabiration
No problem, it's a good cause, so I'm glad we could help.
---
User(s) browsing this thread: 1 Guest(s)